The Amnesty International Annual Report 2009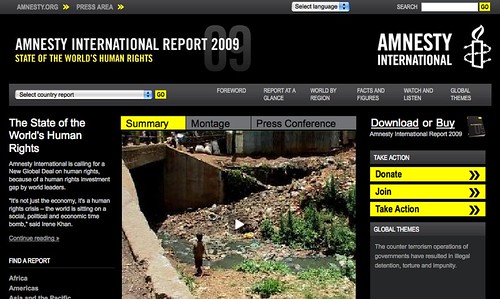 Amnesty International's Annual Report for 2009, the definitive report on the state of the world's human rights is now live.
Pretty smooth sailing technically this time round due to using Drupal (the same CMS we use on the main amnesty.org site and some excellent dev help from the fine, fine folks over at CivicActions (except for a worrying little last-minute technical terror of a bug that slipped through).
Massive kudos to the internet team who worked under very difficult conditions this year with the simultaneous launch of the Dignity campaign to get this puppy out the door. And special and unbelievably grateful thanks to the members of my own team who had the ignominious job of doing the difficult behind-the-scenes technical work to make it all work smooth as silk (or look like that) as well as getting out an extranet or two when no one was looking (not to mention having to deal with my tyrannical direction).
Anyhow, put another one in the can, another chalk mark on the wall and crack open the champagne bottles and show me the way to go home because I think I really need some sleep after seeing this one through till dawn.
---